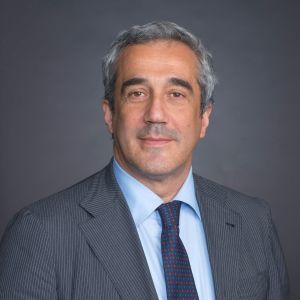 Giovanni Di Giacomo, MD
Rome, Italy
Biography
Giovanni Di Giacomo is the Head of the Orthopedics and Traumatology department at Concordia Hospital in Rome, Italy (ISAKOS Teaching Center). Since 1995, he is the Chief Sports Physician for the ATP (Professional Tennis Players Association) for the WTA (Women's Tennis Association) during the Italian Open at Rome's Foro Italico, and the NITTO ATP Finals starting in 2021 at PALA ALPITOUR, Turin (Italy).
European Chairman of STMS (Society for Tennis Medicine and Science) since 2016.
From March 2022 to March 2023 President of the "Italian Society for Arthroscopy, Knee, Upper Limb, Sports, Cartilage, and Orthopaedic Technology" (SIAGASCOT).
Since April 2023 Past President of the SIAGASCOT.
Lecturer on the Master's Degree course in Physiotherapy Applied to Sports and Artistic Activities at Siena University (1st level Master)
Scientific Director of the "Shoulder Academy" High-level Training Course (Rome).
Di Giacomo is a member of many prestigious scientific societies: SIOT (Italian Society of Orthopedic and Traumatology) and SICSeG (Italian Society of Shoulder and Elbow Surgery).
Deputy Chair of the ISAKOS Shoulder Committee for the 2023-2025 term, and also a member of the Upper Extremity Committee. International Member of AAOS (American Academy of Orthopedic Surgeons).
Corresponding Member ASES (American Shoulder and Elbow Surgeons), ESSKA Member (European Society of Sports Traumatology, Knee Surgery, and Arthroscopy), and AANA (The Arthroscopy Association of North America). Consultant Physician for FIDIA Pharmaceutical International
Stryker Trainer
Inventor of the "Wedged Profile Mini Plate" produced by Arthrex Inc. for use during the "Laterjet Procedure"
Dr. Di Giacomo's research papers have been published in internationally acclaimed journals, such as Arthroscopy, The Journal of Arthroscopy and Related Surgery, The Journal of Bone & Joint Surgery (JBJS), Sports Medicine, the American Journal of Sports Medicine etc. Together with E. Itoi and S.S. Burkhart, Dr. Di Giacomo co-authored the most downloaded article in the history of the journal "Arthroscopy": Evolving concept of bipolar bone loss and the Hill-Sachs lesion: from "engaging/non-engaging" lesion to "on-track/off-track" lesion. He is the author of numerous books published by Springer.
View All Faculty